With so much sandstone occurring naturally in Penrith and the Lower Blue Mountains, it makes perfect sense to use it as a feature in your garden. Sandstone has perfect natural tones giving an earthy, relaxed atmosphere to any outdoor living space.
Here at LMLS we have a great selection of Sandstone Products, including a variety of machined Sandstone – Sandstone Flagging, Sandstone Ballast and Sawn Sandstone – for retaining walls and paths, as well as large Sandstone Boulders and Bush Rocks for walls, bank stabilisation and feature rocks. We also offer a Sandstone Retaining Wall construction service if you are after a professional job.

Sandstone Flagging is used primarily for capping of walls, stepping stones, footpaths. Read More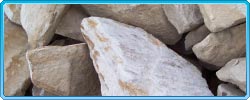 Sandstone Boulders are fantastic for cheap retaining wall construction, feature rocks and bank stabilization. Read More
Timeless and popular product used in a variety of ways, including retaining walls and feature rocks. Read More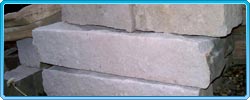 Sandstone Ballast is sandstone Split into blocks approx 400 x 200 x 200. Easiest type of stone to shape into a formal wall.Read More
Sawn Sandstone is used for the capping of retaining walls, paving and letter boxes. Available with either a smooth (diamond sawn) or rough finish (gang sawn). Read More

Order Sandstone Today!
Like what you see or just need some more information? Here's 3 easy ways to get your landscaping ideas moving forward! Please call us on 4739 8899, OR email us via our contact page, OR drop in on us at 22 Attunga Road, Blaxland (The Tip Road).



*LMLS strives to gives its customers correct and up to date information on all its products but because of the fast turnaround and the vast range of options its not always possible to keep things up to date. Products displayed may not be immediately available, and its possible that some colour stocks are not available at all. For the best and most current advice please call LMLS, or drop in and we would be happy to give you all the information you need on whatever landscaping, garden or masonry product you are looking for.