Our Exotic Pebbles range features some exquisite decorative pebbles in a range of vibrant colours and textures. This decorative pebble range is available in a number of contemporary styles and designs: create the atmosphere you want in your outdoor living areas today.

Polished black pebbles are a great option for small feature areas, pot surrounds, water features, paths and pebble mosaics to create or enhance a modern contemporary style garden. Read More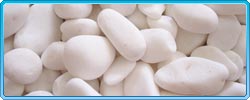 Nara Snow White Exotic Pebbles are a pure white pebble which gives a clean crisp look to any garden area, and enhances any garden or pathway. Read More
Polished Jade Exotic pebbles are green pebbles and work well with earthy, natural tones or outdoor timber furniture. Read More
These green pebbles also look fantastic in water gardens or with pools that have green interiors. Read More
Java red pebbles are a beautiful pebble, which compliment many landscaping and garden environments. Read More
Nara Red Exotic Pebbles are a beautiful pebble which have red and cream textured tones, and a matt finish. Read More

Order Exotic Pebbles Today!
Like what you see or just need some more information? Here's 3 easy ways to get your landscaping ideas moving forward! Please call us on 4739 8899, OR email us via our contact page, OR drop in on us at 22 Attunga Road, Blaxland (The Tip Road).



*LMLS strives to gives its customers correct and up to date information on all its products but because of the fast turnaround and the vast range of options its not always possible to keep things up to date. Products displayed may not be immediately available, and its possible that some colour stocks are not available at all. For the best and most current advice please call LMLS, or drop in and we would be happy to give you all the information you need on whatever landscaping, garden or masonry product you are looking for.