LMLS has sand for many applications. Whether your a builder and need some brick laying sand quickly, or whether you need some clean sand pit sand, whether you are doing tiling or making up some concrete – LMLS has the sand you need. All sands available in convenient 25kg bags (throw one in the boot) or the LMLS Delivery Service delivers sand 7 days a week, in both small and large truck loads.

Inexpensive and perfect under your water tank or concrete slab. Read More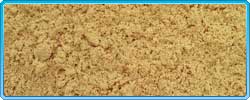 A clay-based sand which is perfect for brick and block laying mortar mixes. Read More
Traditional mortar mix for brick, block and stone laying. Perfect under a pool and great for Brick Bagging. Read More
If you're building a sandpit, this is the sand you need. Read More
Perfect for paving and mixing with concrete, Washed River Sand also has excellent filtration qualities so it's great for use as fill. Read More
Decomposed Granite is a product which creates a fantastic hard wearing footpath, which is great for bushland paths in native gardens, designer spaces and driveways. Read More
Enviro sand is a recycled low cost filling sand solution. It is the sand formed from the crushing process of recycled concrete. Read More

Order Sand Today!
Like what you see or just need some more information? Here's 3 easy ways to get your landscaping ideas moving forward! Please call us on 4739 8899, OR email us via our contact page, OR drop in on us at 22 Attunga Road, Blaxland (The Tip Road).



*LMLS strives to gives its customers correct and up to date information on all its products but because of the fast turnaround and the vast range of options its not always possible to keep things up to date. Products displayed may not be immediately available, and its possible that some colour stocks are not available at all. For the best and most current advice please call LMLS, or drop in and we would be happy to give you all the information you need on whatever landscaping, garden or masonry product you are looking for.