We have a large selection of styles and materials to build and customise Retaining Walls for your outdoor living spaces. Whether you want the classic feel of natural Sandstone, to tidy things up with a Concrete Sleeper, or to create a whole new atmosphere for your outdoor living areas with any of the contemporary wall products from Australia's top suppliers – We've got it.

Dry Stacking Blocks
A versatile design with a curved splitface suitable for both straight and curved walls, this is a simple system to install where one size fits all. Read More
Creates a classic look in true Sandstone Hues. Demonstrating fantastic versatility Hadrian Walling can be used in straight and curved designs. Read More
This refined range with a sharp framed splitface is ideal for creating smart, contemporary lines. Read More
Structurally sound and requiring no mortar, Heron Retaining Wall Blocks are virtually maintenance free. Perfect for a "DIY". Read More
A strong and secure walling option, available in both flushface and curved splitface, it features a unique interlocking pin system and is best suited to professionally designed walls up to 12m high. Read More
Combining elegance with durability this option has a unique interlocking system and sharp framed splitface which make it suitable for professionally designed wall up to 12m high. Read More

Sandstone Retaining Walls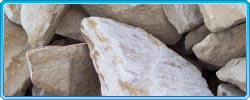 Sandstone Boulders are fantastic for cheap retaining wall construction, feature rocks and bank stabilization.
Read More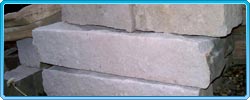 Sandstone Ballast is sandstone split into blocks approx 400 x 200 x 200. Easiest type of stone to shape into a formal wall.Read More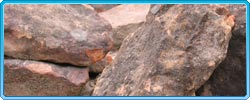 Sandstone Bush Rock is a timeless, popular product that can be used in a variety of ways, including retaining walls and feature rocks.
Read More

Concrete Sleepers
Structural Concrete Sleepers have the natural look of timber but are produced with the durability of reinforced concrete. Read More

Smooth, besser block. Read More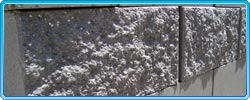 Splitface Besser blocks have a rough surface on one face.Read More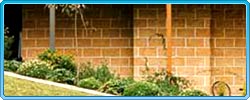 Coloured Besser Blocks are available in range of colours. Read More

Order Retaining Wall Products Today!
Like what you see or just need some more information? Here's 3 easy ways to get your landscaping ideas moving forward! Please call us on 4739 8899, OR email us via our contact page, OR drop in on us at 22 Attunga Road, Blaxland (The Tip Road).



*LMLS strives to gives its customers correct and up to date information on all its products but because of the fast turnaround and the vast range of options its not always possible to keep things up to date. Products displayed may not be immediately available, and its possible that some colour stocks are not available at all. For the best and most current advice please call LMLS, or drop in and we would be happy to give you all the information you need on whatever landscaping, garden or masonry product you are looking for.